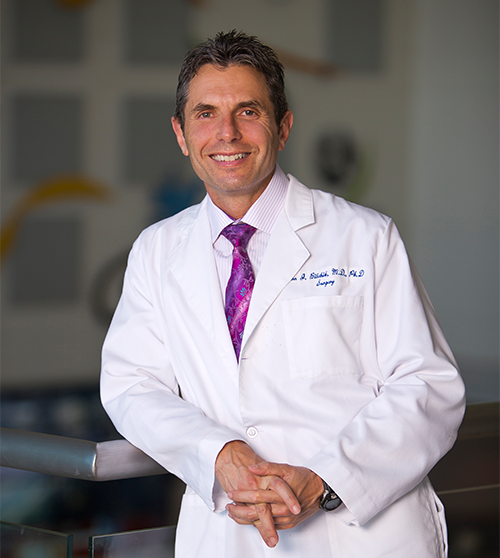 Dr. Anton Bilchik,

MD, PHD, MBA, FACS
PROFESSOR OF SURGERY AND CHIEF OF MEDICINE
JOHN WAYNE CANCER INSTITUTE
Clinical Interests
Surgical Oncology

Pancreas Cancer

Liver Cancer

Colorectal cancer

Personalized medicine

Laparoscopic and robotic (minimally invasive) surgery
Biography
Anton J. Bilchik, MD, PhD, MBA, FACS, is a Professor of Surgery and the Chief of Medicine at the John Wayne Cancer Institute at Saint John's in Los Angeles, California. He is an internationally recognized surgeon and scientist who has pioneered techniques to improve staging in colon cancer and minimally invasive approaches for liver and pancreas cancer. Dr. Bilchik is trained and certified in advanced laparoscopic and robotic surgery. He serves as an investigator on international multi-center clinical trials and with over 200 publications, is considered one of the country's leading specialists in surgical oncology.
Dr. Bilchik has received numerous awards, recognition and accolades, including the John Wayne "Duke Award", a special service award for his contribution to science and humanity. He was also recently honored by the Anti-Defamation League with their prestigious annual humanitarian award, the first physician to be bestowed this honor.  For his life changing cancer research, he has been honored by both the American Cancer Society and the American College of Surgeons and was recently listed as one of "Americas Top Surgeons" for ten years in a row. In January 2013, US World News and Report ranked him in the top 1% of physicians in the country, and Newsweek magazine in July 2015 listed him as one of the top cancer doctors in the country.
Dr. Bilchik has been the recipient of competitive research funding from the National Cancer Institute since 2001 and his research publications have contributed to improving quality standards in cancer care. Dr. Bilchik serves on the editorial boards of many peer-review journals and currently serves on the board of directors of the Southern California Chapter of the American College of Surgeons, the John Wayne Cancer Institute and California Oncology Research Institute. Dr. Bilchik also is committed to community outreach programs for underserved communities where he teaches about cancer prevention and early detection.
Dr. Bilchik believes in a personalized approach to cancer care and that every patient should be treated with dignity and compassion with access to the most current treatments available.